About the Osteotron IV
The Osteotron IV is a LIPUS bone growth stimulator manufactured in Japan by ITO CO., LTD. The Osteotron IV uses specific parameter Low Intensity Pulsed Ultrasound (LIPUS) technology to promote healing in bone fractures and fusions. LIPUS is a painless, non-invasive technology that uses sound pressure stimulation to accelerate the formation and union of fractured and fused bones.
Following an injury or surgery, the Osteotron IV promotes rapid fracture recovery so patients can return to their everyday lives faster. With two-channel output capabilities, the Osteotron IV enables the treatment of multiple areas and provides effective therapy to fresh fractures, delayed unions and non-union fractures.
What you need to know about the Osteotron IV:
Accelerated fracture and/or fusion healing
Effective healing treatment for delayed union (or non-union) fractures
Clinically proven to heal 86% of non-union fractures
Clinically proven to accelerate healing by 38% for fresh fractures
External, non-invasive, painless treatment
Portable unit that is easy to use at home
Significant, proven results from just 20 minutes of daily use
High patient compliance rate
You might benefit from the Osteotron IV if:
You have certain risk factors that are slowing down the healing process such as diabetes, obesity, tobacco use or advanced age
You have a broken bone or fusion and want it to heal fast
You have a fracture or fusion that shows delayed signs of healing several weeks or months after the injury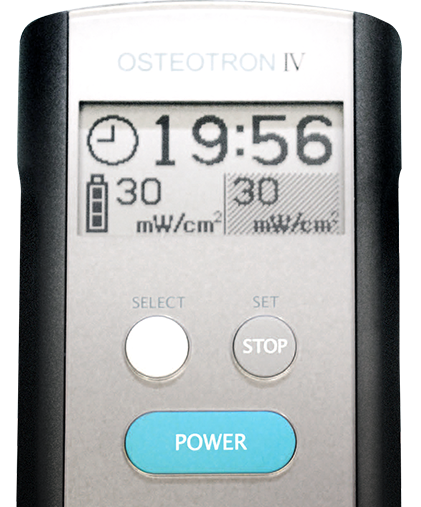 Accelerated Healing Process for Fractured Bones
The Osteotron IV is an innovative medical device that uses safe, painless ultrasound waves to activate cells close to the fracture that kick-start the body's natural healing process. This is a non-invasive method capable of helping bones repair and fractures heal. Faster.
Less Recovery Time for Fresh Fractures
Fractures can take weeks or even months to heal. For patients who are eager to return to their everyday routines, the Osteotron IV can significantly lessen the recovery time required for fresh fractures. In fact, studies have shown that using LIPUS technology, the Osteotron IV can speed up healing time by as much as 38%.
Effective Healing for Fractures that Haven't Healed on Their Own
Sometimes fractures simply do not heal on their own. Certain bones and fractures are predisposed to slower healing. Up to 10% of fractures may show delayed healing, and some may not heal at all, a process called nonunion. In many cases, patients often undergo surgery to try to heal their fractured bone. Using LIPUS technology, the Osteotron IV has been shown to heal delayed and nonunion bone fractures up to 86% of the time.
Easy and User-Friendly for At-Home Use
The Osteotron IV is simple and straightforward to use. There's no need for extra trips to the doctor or clinic because this convenient device is applied to your injury right in the comfort of your home. You only need to use it for 20 minutes a day, making it a fracture healing treatment that can easily fit into even the busiest of schedules.
Comprehensive Assistance to Facilitate Insurance Coverage
The Osteotron IV is covered under most health insurance plans. However, the process to obtain coverage can be long, difficult and complex and for those unaware of all the necessary requirements, it often results in a declined application. Verve Consulting offers a complete end-to-end service to help you streamline the claim process and get the coverage you deserve.
Double-Probed for Multiple Treatment Areas
The Osteotron IV has two probes. These probes are applicators that apply the treatment to the affected area(s). With two probes, patients can treat multiple fracture areas simultaneously.
Reusable and Environmentally Sound
Many competitive products on the market end up in landfills because these devices are only set up for single patient use. The Osteotron IV is different because it can be reused many times over. Verve Consulting rents the device to patients directly. Patients return the device to Verve Consulting when their fracture is healed. The process is simple, seamless and environmentally friendly.