Do you have an injury that's slowing you down? Are you a high performance athlete with a stress fracture who needs to get back to training quickly? Or maybe you're suffering from a fracture that simply won't heal on its own. At Vervelife, we strive to "get you back into life" as soon as possible.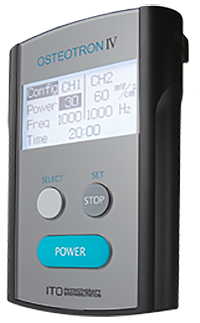 How Can I Get an Osteotron IV?
Ask your healthcare professional if you would benefit from the Osteotron IV LIPUS technology or contact us directly at 905-713-3730 for more information.
With a prescription from your healthcare professional, the Osteotron IV may be covered by your benefits plan. When we receive a prescription form from your doctor, our team handles the insurance claim process from start to finish in order to ensure that you receive the coverage you're entitled to. We ship the Osteotron IV directly to your home where you can count on the Osteotron IV's LIPUS technology to accelerate the healing process and get you back into life sooner!
Don't have insurance? Please visit our FAQs for more information.